Informations about wagner GmbH...
Latest information from wagner GmbH...
2020 - Welcome Britt van Deursen
Dear customers,
We are pleased to announce that Britt van Deursen will join our team from 04.01.2021.
Your responsibilities in our company include research, development and sales.
We look forward to the cooperation with pleasure.
The wagner team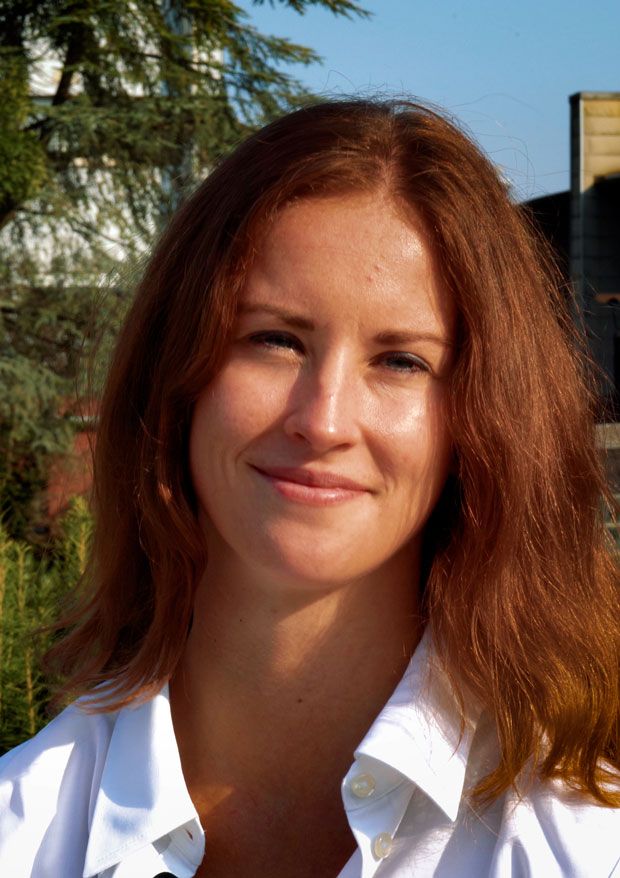 2020 - Merry Christmas
A crazy year is drawing to a close.
Corona has presented us with some challenges, but the crisis has made us even stronger.
Now it is time to rejoice üabout the achieved goals and spend peaceful days with the family.
We wish you and your families happy holidays and a good start into the new year 2021.
Stay healthy!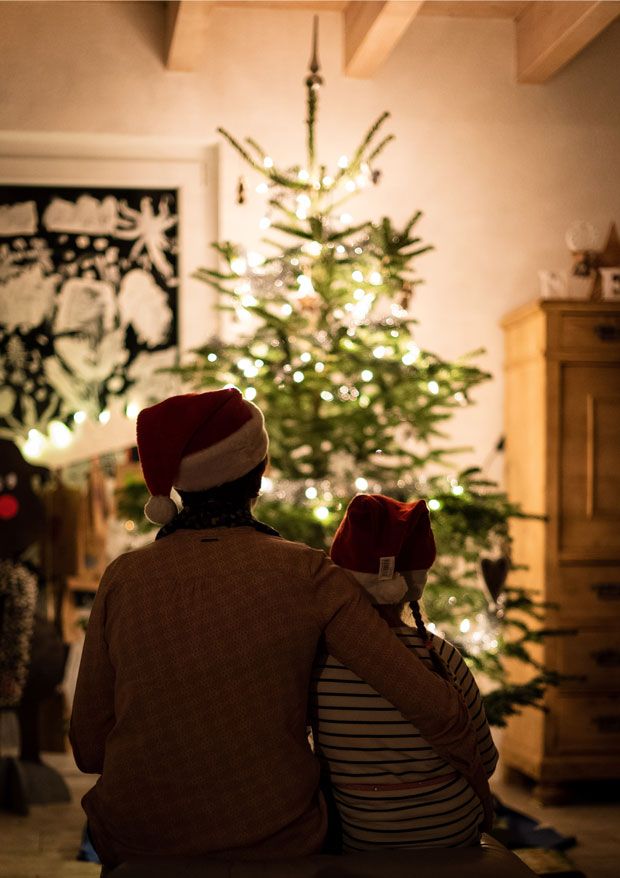 2020 - New lighting system with E.ON
Lighting systems in companies have to master various challenges:
Moisture, high ceilings, long burning times and other extremes. This can result in high costs.
Modern, sustainable LEDs help to save energy costs and at the same time ensure a better climate balance. LEDs do not become hot even after a longer period of use, thus significantly minimizing the risk of burns. Together with the energy expert E.ON and the expert for LED technology Qualitas AMS, the company wagner has completely renewed its lighting system.
Better working conditions due to precise lighting!
More Information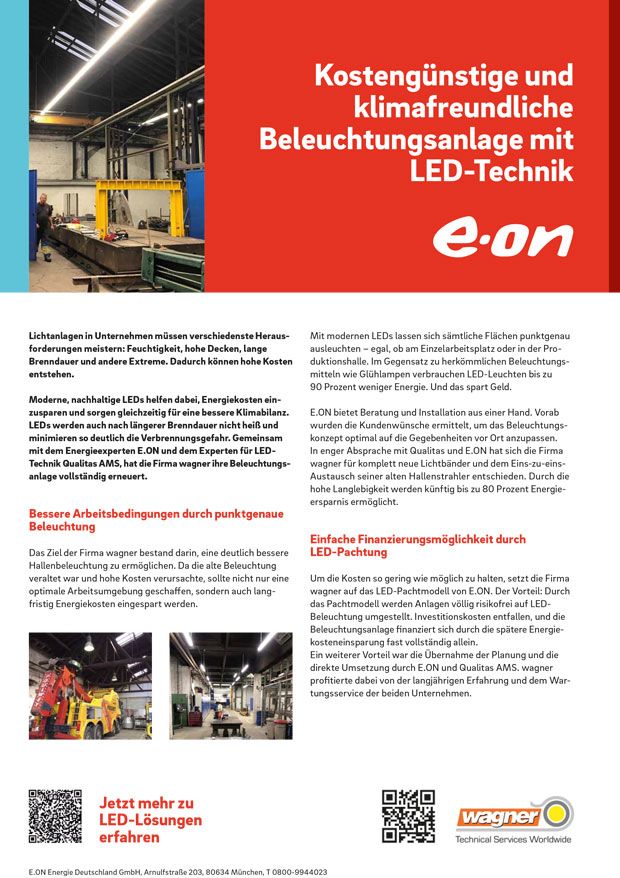 2020 - Gateway to the city
The "IG West" enters the stagee
Companies on Aachener Straße want to design the entrance tour of the city.
"With a wide back we become visible." Stefan Wagner.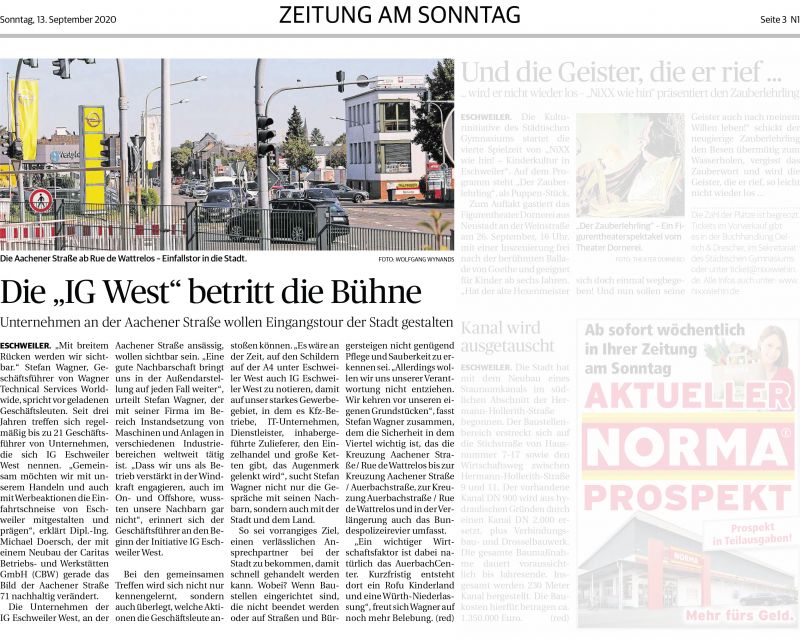 2020 - Sealed Services Project Partners
We are project partners with Sealed Services
Infrastructure for the realization of industrial services in value networks in the context of digital integrity and sovereignty. This research and development project is funded by the Federal Ministry of Education and Research (BMBF) in the program "Innovations for the production, services and work of tomorrow" and is supervised by the project management agency Karlsruhe (PTKA).

More information under: www.sealedservices.info
Our video about the project "Sealed Services"
Funding code: 02K18D130
Project duration: 01.05.2020 – 30.04.2023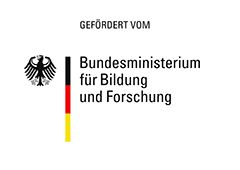 2020 - We go on air!
We start our YouTube channel and give you regular background information.
Let us start with the first contributions:
1. Statement of our managing director Stefan Wagner
2. On-site machining, example circular milling
3. In-site machining, example mobile eroding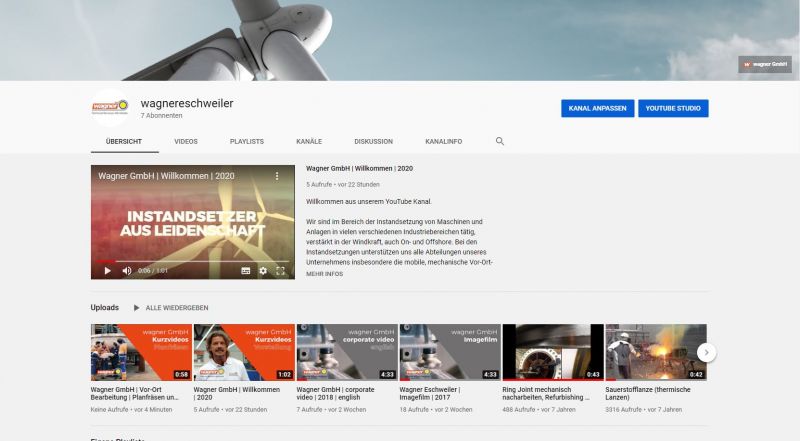 2020 - We inform you continuously!
Dear business partners,
you will receive some information about new projects.
We will report on the following topics:
Mobile eroding
Production of graphite electrodes
Conversion of the company to LED (the halls are already equipped with LED lighting fixtures)
Enerpac support point
A new research project that has just been approved by the Federal Ministry of Education and Research (BMBF)
Yours sincerely
The
wagner
team

2019 - We are ENERPAC sales partners
Ladies and Gentlemen,
for more than 50 years the repair of machines and plants as well as the construction of special machines has been a matter close to our heart. We serve customers in almost all industrial sectors.
In order to ensure an efficient and innovative service, we are already working together with our distribution partners Palfinger/MAFI and Westfalen.
We are very pleased and proud to inform you that we are expanding our partnership portfolio with ENERPAC and all ENERPAC brands such as Mirage and Equalizer.
ENERPAC is a world-leading supplier of industrial tools, torque and tensioning devices and solutions for precise lifting, lowering and positioning of heavy loads. The comprehensive product portfolio offers world-class leading technologies for performance, durability and safety.
Our new employee Mr. Muhammed Aksu is at your disposal for purchase, service and also various questions regarding the products, application under different challenges or also product assemblies for different industrial uses.
Please find the corresponding contact details and an ENERPAC flyer in the attachment.
Heartfelt greetings
The
wagner
team

2019 - ENERPAC Trade IN - Trade UP
2019 - Muhammed Aksu joins our team
Dear customers,
We are pleased to inform you that Muhammed Aksu will be supporting our design and development team as well as the Enerpac division from 01.09.2019. His focus and experience in design and development will be of great benefit to us and to you. We look forward to this cooperation.
The
wagner
team

2019 - Zertifizierung DIN EN ISO 9001:2015
Dear customers and employees,
We are pleased to inform you that our company has again been certified according to DIN EN ISO 9001:2015.
"We are very proud of our new certificate, says Stefan Wagner, managing director of wagner GmbH. It shows that we are well prepared for the current and future requirements and tasks and that we could confirm our positive certification from the past years."
Quality management supports our company in developing its own potential. With our quality policy we want to achieve that we permanently improve our products and processes. With our QMS we have taken a path to make our company future-proof and to steer it in spite of the changes and the changed general conditions.
We would like to thank everyone involved for their good preparation and their dedicated participation in the internal and external audits and look forward to a continued successful cooperation with you and you.
Sincere congratulations
The
wagner
Team
Certificate DIN EN ISO 9001:2015

2019 - Maintenance Trade Fair in Dortmund
Dear customers,
We look forward to seeing you at the Maintenance in Dortmund (leading trade fair for industrial maintenance) from 20 to 21 February 2019. If you are interested in obtaining tickets, we are happy to help. Please contact Ms. Daun on the phone number: +49 (0)2403 8774-49.

Sincerely, Your
wagner
team

2019 - Expansion of our Palfinger Service
Dear customers,
It is with great pleasure that we inform you of the further expansion of our Palfinger service for you. As from 01.02.2019, we will provide a round-the-clock 24/7 on-call service. In addition to this, we will be adapting our Palfinger Service opening hours to make them more customer-friendly. Further information will follow shortly.
Sincerely, Your
wagner
team

2018 - Andrea Petereit strengthens our team
Dear customers,
We are pleased to inform you that Andrea Petereit joined our team in October 2018. We are very happy to welcome Andrea on board, as her experience in purchasing, order processing, complaint management and warehouse management will be of great benefit to our team and our service to you.
Sincerely, Your
wagner
team

2018 - Martin Bartko - New QMB
Dear customers,
We are pleased to inform you that Martin Bartko joined our company in June 2018 as a Quality management representative (QMB). He is the responsible project manager for the SCC management system and a test agent representative.
Sincerely, Your
wagner
team

2018 - Our new homepage is online
We are delighted that we are finally able to unveil our new website to you.
We hope you enjoy exploring our homepage. Of course, we would be delighted to receive your feedback, and we will be grateful for any suggestions and comments you may have and for your praise or criticism.
Enjoy browsing!

2018 - SSM - the leading international maritime trade fair / Wind Energy
Dear customers,
We are delighted to be attending SSM and Wind Energy in Hamburg in September.
http://www.smm-hamburg.com/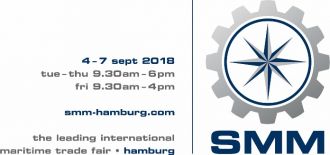 2018 - Norbert Schmitz joins our team
Dear customers,
We are delighted to announce that Norbert Schmitz will be joining our "on-site" team as of 01.01.2018. His strengths and his experience in the area of on-site machining will be of great benefit to us and to you. We are looking forward to working with him.
The
wagner
team

2017 - Corporate Video
We set ourselves the challenge of presenting the variety of services offered by the company in a short promotional film, a task to which we rose with growing enthusiasm. We were able to capture some brief insights into the work on our premises and "on site" with the customer over three days of filming.
A big thank you goes to the film team and all the colleagues who were involved in the filming, both in front of the camera and behind it.
We hope you enjoy browsing through what we have to offer.
2017 - VDI Annual Conference / Lecture
On 19 October 2017, Mr. Wagner attended the 43rd annual meeting of the VDI and gave a talk on the second day of the event covering the following topics:

On-site machining – examples from practice:
On-site machining with transportable machining equipment (milling, spindling, honing, boring)
Combinations of new equipment and repairs for machines and systems that cannot be carried out effectively in the workshop, if at all
Overview of the areas of activity, technical options, designs and cost comparison on the basis of practical examples
Repair welding as an on-site service
2017 - Lubbertinus Kossen joins our team
Dear customers,
We are delighted to inform you that Mr. Lubbertinus Kossen will be joining our sales team on 01.01.2017. His strengths and experience in on-site machining will be of great benefit to us and you, and we are looking forward to working with him.
If you have any questions or would like a personal meeting, Mr. Kossen will be happy to oblige.
The
wagner
team

2016- NRW Wind Round Table
We were delighted to organise the 16th wind energy meeting of the Energieagentur NRW (NRW Energy Agency) at the Goldener Ring in Düsseldorf. After a short presentation by Mr. Wagner with some examples of "mobile machining in the wind energy sector", the evening was marked by stimulating discussions in a pleasant atmosphere, with plenty of opportunities to make new contacts and exchange ideas. We would like to thank everyone who was involved in the organisation of the event.

A big thank you also goes to all of the participants in what was a very well-attended evening. We hope that we will continue to have the opportunity to demonstrate our "passion for repair work" to you in future!
2016 - Apprentices / Final Examination
We would like to take this opportunity to congratulate our two "former apprentices" on their excellent final examination results and on qualifying as machinists.

In a further positive development, the newly qualified specialists were offered continued employment as new additions to their respective divisions. This marks a successful first step in their professional careers.
2015 - wagner GmbH at the Aachen corporate run
Motivated from their heads to the very tips of their toes, two strong running teams from wagner GmbH celebrated their first-time taking part in the Aachen corporate run.
Our company was represented by 2 starters taking on the 5km and 7 starters taking on the 10km lap of the somewhat hilly Hangeweiher in Aachen, all of whom were met at the finish line with rapturous applause from their colleagues and families who had travelled along to spur them on.
2014 - Wind Energy Hamburg a complete success...
Once again in 2014 wagner GmbH was present at the Wind Energy Hamburg trade fair which took place from 23-26 September.
We were thrilled in particular to see so many visitors and to see the keen interest in our stand.
Mr Wagner, Mr Berry and Mr Marschang warmly welcomed questions about on-site machining, particularly in the wind energy sector.
Many ideas, suggestions and solutions were discussed with prospective customers.
We are already looking forward to seeing you at the next trade fair.
2014 - Training / "Height Rescue" training session for wind power stations
The work carried out at wind power stations requires exceptionally well trained service technicians who are aware of the considerable risks. For this reason, our specialists receive continuous training in wind power / onshore and offshore height rescue.
2012 - AKIDA a total success
The AKIDA Conference on Maintenance, Diagnostics and System Monitoring held in November 2012 once again featured a specialist exhibition where companies had the opportunity to introduce themselves to a specialist crowd.
Stefan Wagner, Geschäftsführer of the wagner GmbH gave a specialist lecture on on-site machining with portable processing machines and combinable construction and repair measures.
Further insights into on-site machining were offered at our trade fair stand.