MAFI Transport-Systeme GmbH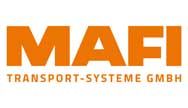 MAFI Transport-Systeme GmbH is one of the world's leading manufacturers of tractors for in-plant transport in ports, industry, logistics and distribution centres. MAFI diesel tractors are used throughout the world to move containers and semi-trailers and for loading and unloading roro ships.

Its portfolio is completed by swan-neck trailers, cargo and roll trailers, container chassis, as well as industrial and heavy-duty trailers. MAFI also builds and supplies industrial battery-operated electric tractors, operating in an environmentally-friendly manner with no emissions. Our products meet the highest technological standards and regulations. Quality and sustainability are our top priorities.
Phone: +49 9341 899-0
Fax: +49 9341 899-107